April 24th, 2014 by TOPer

When involved in projects relating to the translation of a website I often face challenges when it comes to getting hold of the existing content on their website in order to calculate costing. In an ideal world there would be a button on every website which says "export content" and with one click a translation-friendly document is created, but let's get real for a second!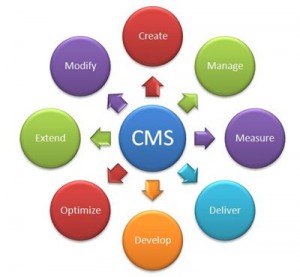 Of course it's not as straightforward as that, there are a lot of variables and complexities to consider when it comes to developing websites. With a plethora of Content Management Systems (CMS) on the market it's really important that you consider the variety of options out there. In this post I answer the why, when, what and how CMS systems can benefit your website when it comes to international expansion.
Why?
When tackling website development it's really important to at least consider installing a CMS system as it will make managing your site more efficient in the long run. Think of it as a library where you can store all the content of your site in a searchable and navigable way.
The variety of CMS systems which can be picked straight off the shelf is extensive and has meant that the level of technical knowledge involved in website development has reduced overall. In most cases you can say goodbye to all that code. Goodbye HTML! Goodbye CSS!
When?
For international versions of your website it is definitely worth investing in a system which accommodates multilingual content. You will be able to manage the different language versions of your site quite effortlessly; switching between them with ease.
If you are developing a completely new website from scratch then it may be advisable to research CMS systems which accommodate multilingual versions from the get go. You might not be planning on going international or translating your site for a while but ensuring that the right capabilities are available from the very beginning will make things a little easier down the line.
What?
Now you know why and when to make use of a CMS system for your international website, you need to consider what features the system should have in order to be best suited for multilingual versions of a site. The following is a quick checklist to consider during the decision process:
Unicode (UTF-8) support for all characters and languages such as Chinese, Japanese and Korean
Right-to-left language support for Arabic and Hebrew
Import/export functionality as XLIFF, Java or other formats such as XML
Version control which can handle updates to the written content and clearly identify them
Staging/development site for quality assurance checks prior to the site going live
Here's a really useful blog post from my colleague Gemma Birch which gives more detailed advice on picking The Ideal Content Management System for International Websites.
How?
As I've said there are so many options when it comes to selecting CMS systems which all have different features that may benefit you in different ways. In this section I will briefly outline the top seven CMS systems which come up time and again in the literature, all of which have the capabilities of managing multilingual websites.
Please bear in mind that this list is not exhaustive. Some of these are open-source, some are proprietary, and there's also those bespoke CMS systems which you can have developed specifically to suit your needs but I won't touch on those here.
WordPress
(To Learn more and get setup using WordPress as your content management system go here:http://www.youtube.com/watch?v=GSPp2OiPvos)
Originally established as a blogging platform in 2003, WordPress has quickly become one of the most popular open-source CMS systems in the world with over 60 million people using it! Visit wordpress.org to download a CMS which you have complete control over. Use the hundreds of free templates as a start and customise using the thousands of plugin applications which are available through the active user community and forums.
From a multilingual perspective the "WordPress Multilingual Plugin" is a translation management tool which allows users to create multilingual versions of their site and manage the translation of content quite easily. Read more about WPML in one of my past posts here.
Drupal

(Absolute Beginners Guide to Drupal-http://www.youtube.com/watch?v=XgYu7-DQjDQ)
Like WordPress, Drupal is an open-source CMS which can be used to develop websites of any nature, but unlike its competitor Drupal gives users full control of a site's URL structure. It's also search-friendly as you can edit headings and meta content with ease. Drupal also has an active user community who use the forums on a regular basis to offer advice to others based on their experiences.
For international websites Drupal offers advice to users wanting to set up multi-language sites, however due to the varying nature of users requirements the best thing to do is consult the forums. One thing which arises over again in the literature is the ease of exporting and importing content from the backend of the CMS for translation purposes (a common issue which crops up!). There are some solutions in place, such as "Node Export", but an element of technical knowledge will be required during the initial set up phase.
Joomla!

(Here's how to build a complete Joomla 3 website, step-by-step, no steps skipped. This is the updated version of my last tutorial.Enjoy!-http://www.youtube.com/watch?v=B-7jsURjLiU)
The award winning CMS, Joomla!, prides itself on its user-friendly interface and easy set up. However, when it comes to eCommerce sites Joomla! lags behind slightly. Sure you can download and install several plugin applications which will power your online store, but this does not come included in the basic package.
Search the Joomla! Extensions Library for applications which can help with launching, managing and translating your international website. Popular options include "jDiction" which enables import/export functionality allowing users to produce CSV or XLIFF files that are translation friendly. Winner!
ExpressionEngine
The ExpressionEngine CMS is not entirely open-source I'm afraid. You will have to fork out some money in order to access the add-ons available to customise your website, but with this is does mean that you are able to develop add-ons specific to your own purposes.
When it comes to creating multi-language sites in ExpressionEngine you can find some useful advice for beginners here. Unlike some of the other CMS systems out there, ExpressionEngine has an inbuilt feature which allows users to export their content in CSV format in order to be translated. All you need to do is remind your translation agency to keep the HTML coding intact in order to reimport the translated content to your new international site.
Concrete5
This WYSIWYG, open-source CMS system is lesser known than its major competitors but it certainly has some features which users will find extremely valuable. Rather than managing everything from a central dashboard, the different areas of a site can be accessed through widgets which can be dragged and dropped to wherever they are best suited. Again there are a range of add-ons and themes, but not as many as alternative systems out there.
For international sites there are three add-ons which you could benefit from. "Internationalization" is a free application which allows websites to be replicated ready for the translation process. Followed by the "Translations Manager" which is a paid application that enables you to easily manage the content you require to be translated. Once your multilingual website has been launched then it might be beneficial to install the "Language Manager" which will automatically detect the language required based on the location of your user through geo-targeting.
MODx
If you want a CMS which allows full creative reign over your website then MODx might be the option for you. With inbuilt SEO functions such as URL and meta content management MODx also ticks this box, and if you're planning on going mobile you can power your website to be responsive when viewed from iOS or Android powered products.
The MODx community have actually developed quite a few different optional applications to help when going international. The most popular are "Babel", which has the ability to handle both multilingual sites and SEO-friendly, translation-friendly sites, there's also "YAMS (Yet Another Multilingual Solution)" which again allows MODx users to manage their international content quite easily.
SilverStripe
The structure of the SilverStripe CMS is accessible to both beginners and programmers alike. Acting more like a desktop application this system might be better suited to the needs of those less techie users. The community forums also boast about the easy installation of the system which comes with some great tutorials to help you on your way.
The most popular applications available for SilverStripe users wanting to launch multilingual sites are "Multilingual Module" and "Translatable" which are multi-language management tools that can be easily installed but they do come with a small cost involved.
Now that I've overloaded you brain with information about just a handful of the systems on the market covering the why, when, what and how of CMS' for international websites, the decision is over to you. What I will say is don't make your decision lightly, and don't just choose WordPress because everyone else is! You need to do your research to ensure that all of your requirements are going to be met. Choosing the most popular solution may not be the right one for you so definitely weigh up your options first.